AIMA UCSC ACPMI
ACPMI is offered by All India Management Association (AIMA) – an apex body of management profession in India in collaboration with University of California Santa Cruz (UCSC) - a leading university having its extension centre in Silicon Valley, USA which is home to many of the world's largest technology companies including Apple, Cisco, Google, HP, Intel and Oracle.
Programme Overview
If the organisations are to survive and thrive, then innovation has to be a core part of managements' responsibility. The managers' role is to innovate the design of organisations and the practices of management as much as it is to innovate new products and services. This challenge however most managers aspiring to take up leadership positions are less equipped to deal with, but that the emerging leaders will demand with ever greater urgency.

AIMA UCSC ACPMI is an intensive 8 months multi modular programme which has been designed to cater to the aforesaid need of managers who would like to accelerate their career growth in the organisations.
Who Should Attend
AIMA UCSC ACPMI is designed to create a deeply relevant, immersive, and dynamic learning experience for industry and Government executives, ready for the next level of the leadership challenge. The programme is also suited for budding entrepreneurs who want to keep them abreast with the emerging frontiers of knowledge and practice in the field of management and innovation. The participants may come from a range of industries and functions and all will be technology savvy, open to innovation and change, and driven to make a difference in their work environments. The programme will benefit professionals with:
Significant experience and demonstrated career progression and success across levels, including:

CXOs, Directors, Presidents, VPs etc
Managers of managers
Mid to senior functional managers and business heads
Individuals with outstanding careers and leadership roles in a variety of settings

A strong drive to succeed and aspirations for reaching beyond the obvious career milestones
A demonstrated ability to adapt, learn, and apply new knowledge in varied situations
A minimum of 5 years of work experience in functional, technical, or business roles
A graduate degree with a strong academic track record
Fluency in written and spoken English
Programme Highlights
Why join ACPMI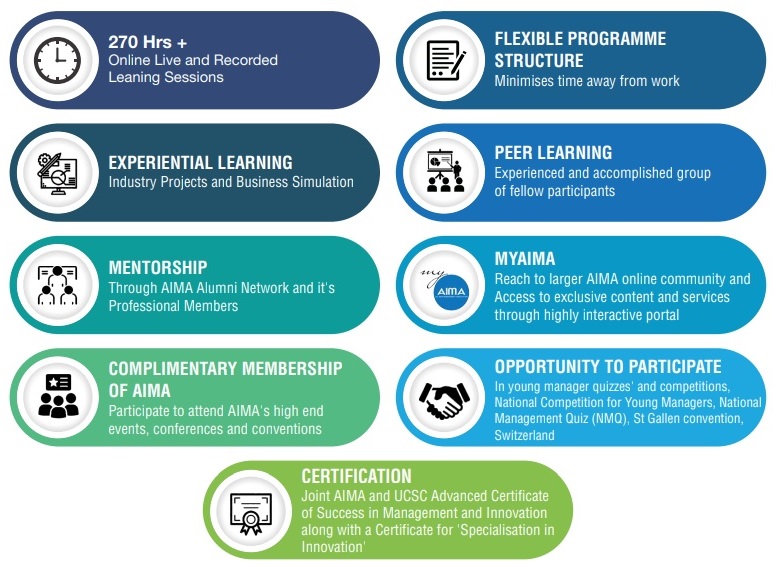 Modes of Delivery
During weekends on Saturdays and Sundays through Online Live & Recorded Sessions (Over 100 hrs Online Live Sessions and over 170 hrs Recorded Sessions)
Faculty Resources
Leading faculty from Industry and Academia to engage the sessions. The four courses (two each in Module I and II of the programme namely; Disruptive Business Models, AI for Business, Design Thinking for Innovation & Entrepreneurship and New Ventures to be exclusively designed, developed and delivered by the UCSC Silicon Valley Extension Faculty.
Contact Us
Kiran Rawat
All India Management Association
Management House, 14 Institutional Area,
Lodhi Road, New Delhi - 110 003
Tel: +91 11 2464 5100/4312 8100 Extn:- 245 24608545 (D)
Mobile : +91 9717870424
Email : kiran@aima.in
Programme Fees
INR equivalent of USD 6500 per participant
Inaugural Discount: USD 750 per participant for registrations received along with the Programme Fee by 15th November, 2020.
Early Bird Discount: USD 750 per participant for registrations received along with the Programme Fee After 15th November 2020 a discount of USD 500 per participant available for registrations received along with Programme Fee by 15th December, 2020.
GST: 18% as applicable on the date of fee payment will be charged on the programme fee. AIMA GSTIN No.: 07AAATA1644A1ZH AIMA PAN No.: AAATA 1644 A
Programme Structure & Curriculum
The AIMA UCSC ACPMI is covered in two (2) modules of 3 months each (total 8 courses offered, 4 courses by AIMA and 4 courses by UCSC) with an additional 2 months in which participants will gain experiential learning through Industry based Project Work and Business Simulation.
Module Wise Break Up of Courses
Module
1
Business Analytics (offered by AIMA)
Digital Marketing (offered by AIMA)
Disruptive Business Models (offered by UCSC)
AI for Business (offered by UCSC)
Financial Modelling (offered by AIMA)
Strategic Management & Ethics (offered by AIMA)
Design Thinking & Innovation (offered by UCSC)
Entrepreneurship& New Ventures (offered by UCSC)
2
Module
Module
3
Experiential Learning (2 Months)
Industry Project Work (offered by AIMA)
Business Simulation (offered by AIMA)
The admissions to this programme will offered for two batches; January and July
The first batch will start from January 2021 onwards.
You can apply to the Programme by submitting your application online.

Based on your credentials mentioned in the application, you will be interviewed for suitability and offered admissions to the Programme.