Digital Marketing Training
All India Management Association (AIMA), the national apex body of professional management of India along with Digital Vidya, Asia's leading Digital Marketing training company and the first one to launch Social Media marketing workshop series in India in 2009, brings you a joint Certification Programme in Digital Marketing and Analytics.
In the era of digital revolution, technology has opened new opportunities for marketing. In the time of individualisation, digitalisation, networking along with the emergence of the enlightened consumer has posed new challenges as well as opportunities for marketing.
What we market may not have changed but how we market has changed. The evolving discipline of digital marketing offers opportunities for innovation, profitability, affordability, measurability and targeting. Digital marketing has not only opened opportunities for the organisation, but also enormous opportunities have boomed for digital marketers, web designer, web analyst and web developer.
Digital Marketing Program Focus
To truly harness the potential of internet marketing/online marketing and effectively leverage its impact on consumers, we need to have strong foundations in Digital Marketing. We offer a Professional Diploma in Digital Marketing, where the program focuses on:
Exploring the emerging tools offered by the internet.
Access the realm of social media
Understand and estimate the mindset of the online consumer.
Design tools to enhance online consumer experiences.
Monitor, evaluate and iterate traffic-building activities for marketers.
Evaluate internet-marketing metrics and identify KPI.
Intergrade digital marketing and traditional marketing efforts.
Benefit the marketers through better consumer segmentation, forecasting consumer trends and consumer analytics.
Extracting consumer DNA and aid decision making in marketing.
Corporate Training in Digital Marketing Executives of ITDC group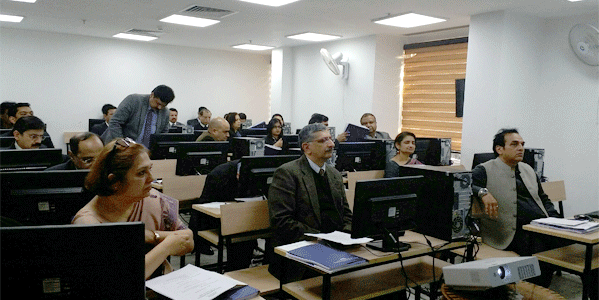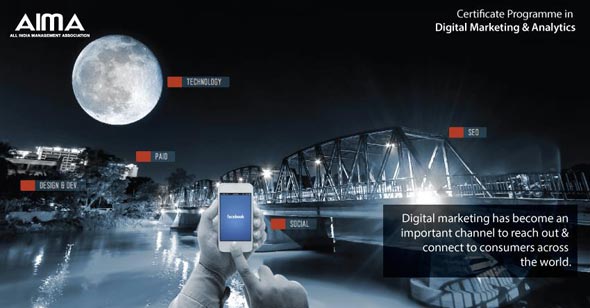 Key Competencies Developed in Digital Marketing
Hundreds of participants have benefited from the program. You too can develop your capabilities in digital marketing. This programme follows a hands-on, do it yourself (DIY) approach to teach the fundamentals and applications in digital marketing.
The program aims at developing an overall understanding of digital marketing / online marketing platforms, mainly web analytics, social media tools, marketing through search engines, search engine optimisation, mobile marketing, email marketing, Pay per click, digital display marketing, content marketing and Strategizing marketing.
Digital Marketing Course Overview
This course is designed by practising managers and subject matter experts. It aims at covering the essential marketing and advertising concepts, revisit the fundamental statistical tools for analysis and prediction along with in-depth knowledge of online marketing and analytical tools.
This course is designed for practical learning, therefore, most concepts will be linked with hands-on training, where students will be expected to work with marketing datasets, dummy display ads, virtual website optimisation, SEO based on instructions in lectures and class discussions. The live experience of analysing responses with analytical software, the launching of dummy display ads, creating optimisation of website through Google Adwords are some of the key features of the programme.
At the end of this course, the participants will understand various channels and activities essential to plan to implement and manage an effective digital marketing strategy for their businesses. The course will equip them for various online marketing certificates like Google ad words, Facebook, Google Analytics (GA)
Digital Marketing Course is an initiative designed to educate students and practitioners in the area of Digital Marketing analytics and make them ready for jobs or prepare them to launch a campaign for their organisations.
The Professional Certificate in Digital Marketing analytics is recommended to anyone involved in the planning, implementing or monitoring the Digital strategies at their organisations - or anyone who is looking to add a new skill set and pursue a career in this dynamic field of online marketing. The programme is suitable for professionals of all levels and disciplines, as job roles have increasingly become complex and multitasking and most projects are executed with lean teams. The marketing professional from top to bottom in an organisation should have not only awareness but also expertise to use these tools. Participants will also learn how to leverage these strategies to gain a competitive advantage for both their business and career.
Who Should Attend Digital Marketing Course?
Professionals who need to understand Digital Marketing/ online marketing or get more out of their Digital channels.
Anyone responsible for developing or implementing an organisation's online /digital strategy.
Traditional marketers who want to fast-track their marketing career or enter the digital world.
Entrepreneurs who need to maximise online channels for growing their business.
Students who want to gain knowledge on Internet Marketing and increase their job opportunities.
Digital Marketing Training Structure
The course is divided into 7 modules. Each of the modules has unique content, focus and objective. Each module will be led by a specialist/expert from industry and will have assignments relevant to it. Once a module is completed, the student will automatically progress to the next module.
Digital Marketing Program Syllabus
2 hour session on Introduction to Digital Marketing
Search Engine Optimization (SEO) – Understand the search engine as a default entry point to the internet. Learn how to get a website listed among top search engine results.
Search Engine Marketing (SEM) – Appreciate the role of pay per click in website listing. Learn how to run ads on Search Engines effectively.
Web Analytics – Measure, monitor and evaluate the website traffic and campaign statistics. Learn how to make business decisions from the metrics available in Digital Media
Email Marketing – Delivering the relevant marketing communication to the targeted audience in a most creative way. Learn how to effectively build your users lists, deliver emails & generate relevant clicks. Marrying the offline database with the online database.
Social Media Marketing (SMM) – Harnessing the strength of social media for marketing. Learn how to build brand preferences, generate leads & aggregate audience on Social Media
Content and Blog Marketing (CBM) – Increasing audience engagement through content marketing. Learn to use white paper, brochure, case studies for unique interaction.
Mobile Marketing (MM) – Strategizing marketing through smart devices. Learn App-based marketing, QR codes, Location-based marketing, SMS marketing
Digital Marketing Course Duration
5 MONTHS
(60 Hours instructor led training and 12 online projects)
Total online instructions: 70 Hours
Induction Programme (online): 2 hours
Online projects: 12 hours (in the area of display ads, Adwords, SEO etc.)
Digital Marketing Online Course Assessment Process
The assessment process is divided into two levels.

A. Module assessment: Based on assignments and projects
B. Final assessment: Covers the entire topic of the course

At the end of the course, the student will face an online examination of 1 - hour duration.
Class Timings
ONLINE LIVE CLASSES
Choose between weekend and weekday classes.
Weekend (Saturday or Sunday): 10:30 AM - 1:30 PM
Weekday (Tuesday and Thursday): 8:00 PM - 9:30 PM
How to Register for the Digital Marketing Programme
3 simple steps to join Professional Certificate Programme in Digital Marketing and Analytics:

1. Fill in the registration form.
2. Attach 2 passport size photographs. (Soft copies in online registration process)
3. Pay the fees through a demand draft in favour of AIMA payable at New Delhi or online payment of INR 36,000 + applicable GST.

Alternatively,click here to register online. For online registration as well, all documents should be uploaded in the above provided format only.
Digital Marketing Certification
After successful completion of the training the candidates will be awarded Professional Certificate in Digital Marketing and Analytics, a Joint Certificate from AIMA and Digital Vidya
What's so Special about our Online Digital Marketing Course?

About 40% of training time is dedicated to hands-on exercises build and practice the fundamentals.

Case Study pedagogy - Latest case from industry are used to bring meaning and relevance to the course.
Placement

We are hiring for the position of SEO Executive.
Freshers are also welcome.

Location: Delhi
Must be hands on with both on page and off page (link building, link baiting etc.) tactics.
Must be able to build Strong links and improve domain authority, Generate high-quality organic traffic.
Must have up to date understanding of Google Algorithms, Latest SEO Updates, and Social Media Contribution to SEO.
The candidate should be able to report progress to the management and maintain trackers on the progress.
Provide SEO analysis and recommendations on the websites architecture, structure, SITEMAPS (post, products, geo, video ), ROBOTS.txt etc.
Google Web Master Tools (GWMT) and Google analytics (GA)
Must have good knowledge of Keyword Framing while content writing and also be able to index and crawl the web pages.
Extensive experience in executing result driven PPC.
Hands on experience of the whole gamut of digital marketing (SEO, SMO, PPC, Google Ad words), Affiliate marketing, Display Network etc.
Experience in ecommerce, SEO, PPC, and social Media Marketing.
Work on targeted Keywords, Troubleshoot SEO problems & propose resolutions for SEO implementation issues on the website.
SEO for Landing Pages.
Implement Link Building campaigns.
Ability to write content for SEO and Communicate Effectively.
Report for targeted keywords on weekly basis.
Requirements:
Any Graduate
Ability to work with the team
Ready to take challenges
Highly self-motivated and ambitious in achieving goals
Participating Organisations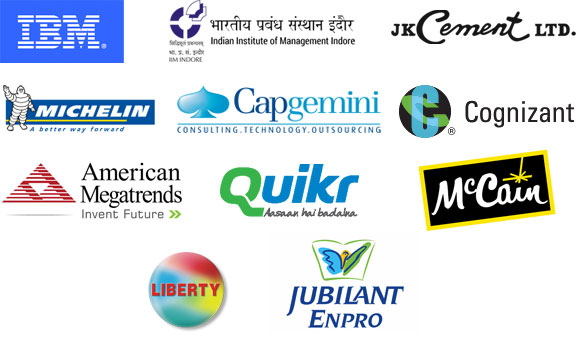 Other Workshop Images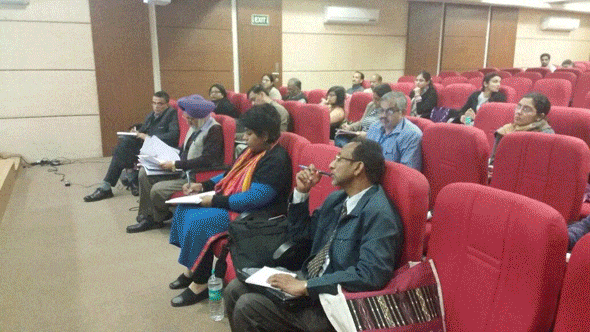 For further clarification, please contact the undersigned
USP of Aima Digital Marketing Program
| Others | AIMA | AIMA Advantage |
| --- | --- | --- |
| Classroom Training | Online Training | No hassels of travelling. Access recorded session in case you miss the class |
| High fees | Low fees | save over Rs. 20000 |
| No Midcourse Intership | Internship provided | Practical hand on experience to get you ready for the job |
| No hard copy of study material Provided | Online and Offline study material provided | World class study material from leading publishers |
| No exclusive content | Blogging and Content Marketing | Exclusive Module |
| Single Certification | Dual Certifiation | Get certified by the Apex Body of management in India |
Rs. 36,000 + 18% GST
Payment Schedule
2 Installment option
Group Discount: 15% discount for 2 or more registrations
Price includes 5 months Course fee + Certification Exam fee+ Study material