Admissions open for January 2023 batch APPLY NOW, PGCM Admission Helpline No. 9250127573 or email us on pgcm@aima.in/digital@aima.in
About the Programme
If you have an innovative business idea in mind and the passion to give wings to your dreams, PGCM- Entrepreneurship & Family Business is the programme for you!

This programme will develop and strengthen the entrepreneurial spirit in you! It aims to equip you with every aspect of business, including idea generation, opportunity recognition and evaluation, business planning, modern marketing techniques, digitization of business, legal aspects of business, financial planning, and stability, training your brain to handle complex and challenging business situations and many more.
Programme Duration
1 year (2 Semesters)
Learning Methodology
Online - Interactive classes by Industry experts and successful entrepreneurs, Exposure to latest case studies.
Special mentorship sessions on business planning, innovation, financing, problem solving, and issues related to handling pressure, legal and day to day challenges.
Training Hours
120 hours of Online Classes + Project work/ Internship
Eligibility
Bachelor's degree in any discipline from a recognised university or 3 years' diploma after 10+2 (equivalent to graduation in any discipline) from an institution, recognised by AICTE.

Coming from business family will be an added advantage.
Class Days & Timings
Classes are held on Saturday/Sunday. Class timings are updated on student portal on AIMA website and student's group on weekly basis.
Programme Fee
Rs 62,000 INR (all Inclusive)
Assessment
70% Weightage for Term end exams held in Online mode (MCQ format)

30% weightage for class assignments, term end assignments, startup idea and business proposals.
For Whom
The young generation innovators, creative thinkers, more inclined towards setting up their own ventures and leading teams through innovative approaches. This programme is suitable for
Freshers with innovative, entrepreneurial mindset and the hunger to learn business nuances
Entrepreneurs and Business owners who want to transform their creative business ideas into a successful venture!
Business owners and entrepreneurs looking for right direction and strategy to grow the business.
Young professionals who want to contribute and transform unorganized family business into an organized business entity.
Intrapreneurs working in an organisation, aiming to critically analyse new business ideas, shape them into new line of business.
Business Consultants
Marketing, Sales, Finance, Project, and Product Management professionals
Leaders of innovative teams, or professionals who wish to lead innovative projects/businesses
Other Programme Inclusions
Soft copy and Hard copy of study material coupled with Live lectures at weekends and recorded lectures through LMS
Complimentary access to Online and Offline Library
Complimentary AIMA student membership with no extra charge
Complimentary invitations for Leadership sessions, Shaping Young Minds programmes, Young Leaders business leaders programmes, industrial visits, startup workshops, incubator cells and many more.
Special sessions on Entrepreneurial process, opportunity recognition, business model development, entrepreneurial finance, design thinking, digitization of business, legal aspects of business and many more by the industry leaders and experts.
Interactive, Live Lectures by revered Industry Experts and young entrepreneurs
All Live classes are recorded, and recordings are accessible for revision through LMS
How to Register ?
Step 1: Open the Admission Form Link: https://education.aima.in/showAdmissionForm.action
Step 2: Fill in the form with the details asked for:
Points to be taken care of while filling in the Form:
Session: Year 2022 July – December
Programme Name -
Select P50 for Lumpsum payment option: Onetime fee payment of Rs 56,750 (Total Payable)
OR
P51- Installment Payment Option:
First Installment: Rs 32,000
Second Installment: Rs 30,000
Total Payable: Rs 62,000
Region: North
City: New Delhi
Nodal Centre Preference 1 as : 0- All India Management Association in the Admission form.
Upload Documents : Attach your Graduation Mark sheet and Passport Size Photograph.
Keep all the documents ready in your laptop/system before opening the Admission Form Link.
Step 3: Select the Payment option Credit/Debit Card and make the fee payment online.
Step 4: Upon successfully submitting the form and making the payment, the candidate will get an acknowledgement from AIMA. Kindly email the same to the programme manager at pgcm@aima.in to complete the registration process.
Call us at +91 9250127573 for admission support
About AIMA
All India Management Association (AIMA), as the national apex body of management profession in the country is committed to enhancing the competence of management profession through its multifaceted activities. AIMA has a broad base of 68 Local Management Associations including two cooperating LMAs abroad, with a membership of over 30,000. AIMA is represented on the Boards of India's premier Business Institutions and also represented on Boards of Government bodies including the AICTE, National Board of Accreditation, National Productivity Council to name a few. In addition, AIMA brings to the Indian managers, the best management practices and techniques through numerous foreign collaborations with professional bodies and institutions.
Sample Certificate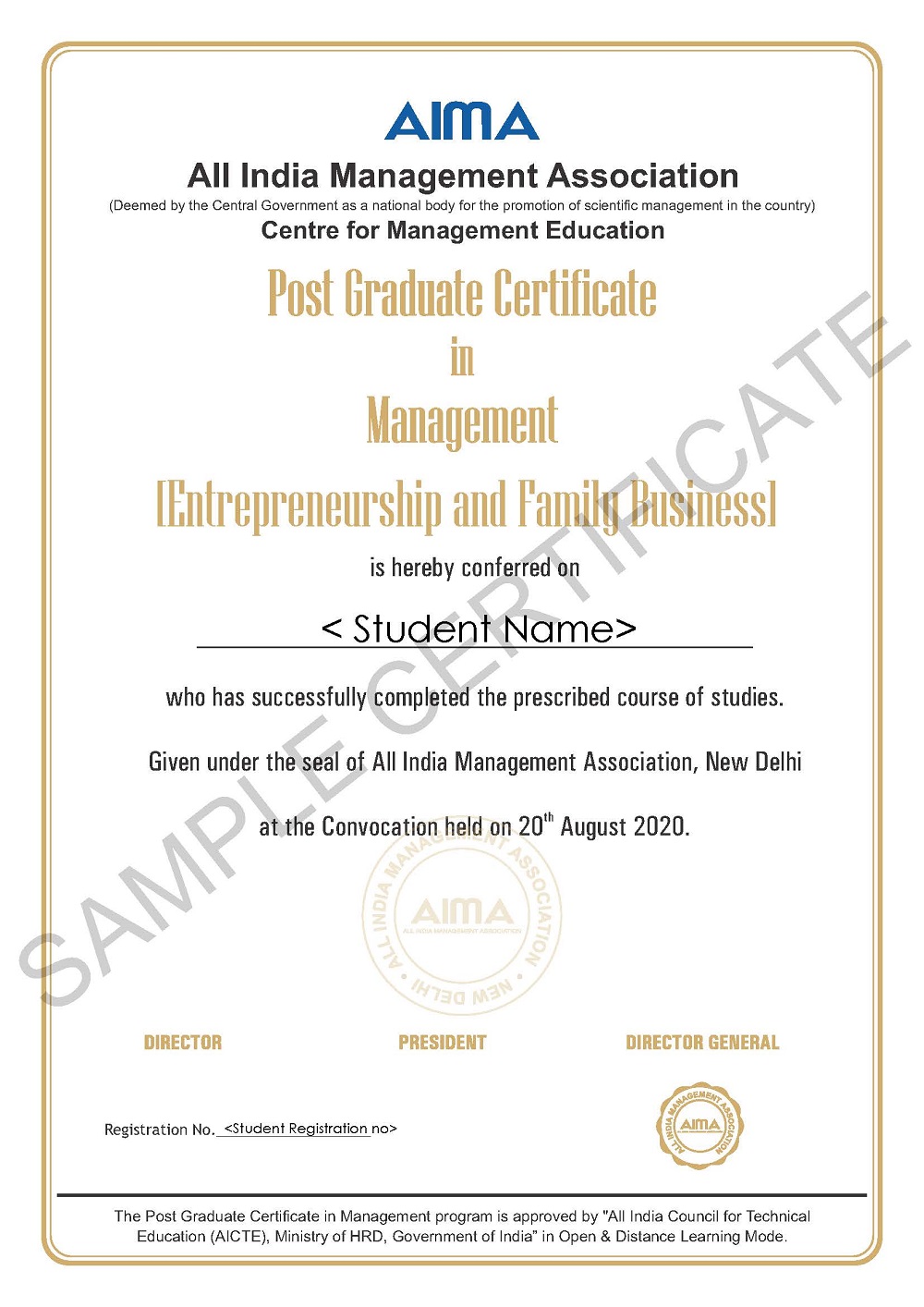 The programme is divided into 2 semester modules of 6 months each
Module
1
EN01- Entrepreneurial Process and Opportunity Recognition
EN02- Entrepreneurial Marketing
EN03- Business Model Development
EN04- Design Thinking
EN05- Legal Aspects of Business
EN06- Entrepreneurial Finance
EN07- Entrepreneurial Leadership
EN08- Digitization of Business
GM 100- Project Work
2
Module
₹ 62,000 /-
Payment options

Fee

P50- Lumpsum payment option:
One-time fee payment
₹ 56,750 (Total Payable)
P51- Installment Payment Option
First Installment: ₹ 32,000
Second Installment: ₹ 30,000
Total Payable: ₹ 62000
The fee above is inclusive of all academic charges, study material cost, online course content, LMS, Digital Library, amongst other facilities provided by AIMA. All fees paid are non-refundable.
Programme Codes to be selected in the admission form is P50 or P51 as per the payment option selected.