Not Just a Certification, It is Govt Approved Post Graduation (Credit based, approved by AICTE, Ministry of Education)

Future awaits! Admissions open on 15th October 2023 for next session. Secure your seat for a brighter tomorrow.
PGCM Admission Helpline No. +91 9250127573; or email us at pgcm@aima.in. APPLY NOW!
Overview:
With a new waves of globalisation across the world, there is a dire need to develop a pool of innovative marketing professionals who are capable to manage, promote and position the products and services of a company efficiently and smartly.
The marketing professionals of the present corporate business world are required to be versatile and skilled enough to live and breathe in marketing with smart business strategies and wide range of online and offline marketing channels.
AIMA understands this need well and nurtures its students accordingly through its Post graduate programme- PGCM in Marketing Management.
AIMA' s apex body status and industry interface has helped largely to design and align the curriculum and course material of this programme to suit the need of emerging trends and needs of working professionals in the marketing and sales area.
For Whom
Professionals who want to learn the practical application of modern marketing techniques and methods for business expansion.
Students and working professionals who wish to gain knowledge and insights on the activities that make up the marketing mix and the essentials of converting challenges into business opportunities.
Professionals looking forward to make a career shift to marketing function for better job prospects and career opportunities.
Students and professionals looking forward to enhance their knowledge and understanding on the essentials of marketing strategy and management; consumer behavior and research; sales, distribution & brand management, and marketing dynamics from an international business perspective.
Programme Recognition
Eligibility
Bachelor's degree in any discipline from a recognised university or 3 years' diploma after 10+2 (equivalent to graduation in any discipline) from an institution, recognised by AICTE.
Graduate students pursuing other professional courses like MBA, MFS, CA, CS, ICWA can do this PGCM programme concurrently and seek lateral entry.
Programme Duration
The duration of the programme is one year with two semesters.
Maximum duration to complete the programme is 3 years.
Selection Process
The eligible aspirants can directly take admission by filling in the Admission Form ( Admission Form Link) and submitting the scanned copy of their graduation marksheet and a passport size photograph. The students may directly upload these documents while filling in the Admission Form.
For lateral entry, exemptions will be given, if the curriculum is equivalent to the PGCM Curriculum. Candidates may contact the PGCM programme Manager at +91 9250127573 or pgcm@aima.in
Session Commences
January and July each year
Exam Schedule:
Exam schedule is updated on AIMA website and Student Portal. Exams are held in June and December each year.
Lateral Entry Provision
Post graduate students undergoing courses like M.Com, MA can opt for lateral entry with exemption of maximum 2 subjects and concurrently continue both the courses.
The objective behind this initiative is to encourage more graduates to take up professional, Post-graduation programme like PGCM. Any student in the Final year/3rd Semester of M.Com /MA can undergo this distance learning programme concurrently.
The student also has an opportunity to seek credit transfer of maximum two papers, which he/she has passed in the first year or 1&2 semester of M.Com/MA.
AIMA has developed a detailed system for curriculum matching and harmonisation of grades and degrees.
Those 2 papers which match with any one stream of PGCM are exempted for the student and they can seek credit transfer for the same, rest of the papers need to be studied and successfully cleared.
Students seeking lateral entry are also given a fee exception for two subjects/papers.
Class Timings and Mode of Delivery
A: CLASS ROOM MODE
Weekend Programme: Classes are held from 9.00 AM to 5.00 PM at AIMA, Lajpat Nagar, New Delhi on (Saturday and Sunday) from August to November and February to May.
Note:- Students opting for the Class room mode need to select Nodal Centre Preference 1 as 100- AIMA CME Coordination Centre in the Admission form.
Students may also opt for Online Live classes. Details provided below
B: ONLINE LIVE CLASSES MODE
Students opting for online mode will get recorded lectures coupled with Online Live classes held at weekends (11.00 AM to 1.00 PM) from August to November and February to May.
Note:- Students opting for the online classroom mode need to select Nodal Centre Preference 1 as 0- All India Management Association in the Admission form.
Sample Certificate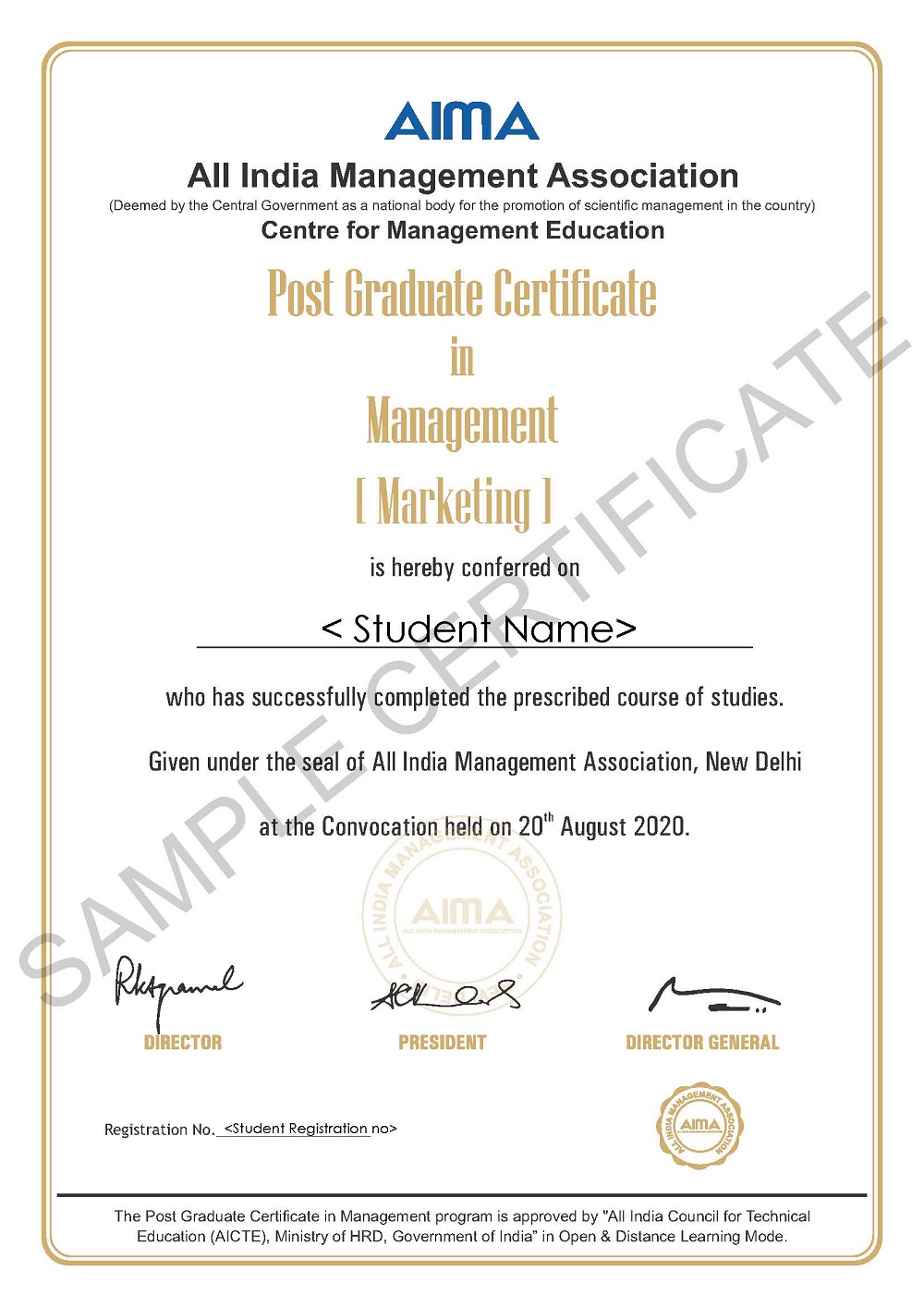 The duration of the programme is one year (two semesters). Maximum duration to complete the programme is 3 years.
Module
1
MM01 - Marketing Management
MM07 - Consumer Behavior
MM02 - Sales and Distribution Management
MM03 - Advertising & Brand Management
MM04 - International Marketing
MM05 - Marketing of Services
GM100-Project Work
2
Module
₹ 26,000 /-
Programme Fee:
| Fee Particulars | Fee in INR |
| --- | --- |
| Total Programme Fee (Module 1 and Module 2) | ₹ 26,000 |
*The fee above is inclusive of all academic charges, study material, online course content, recorded lectures, amongst other facilities provided by AIMA. Examination fee will be separate and will be charged at actuals. All fees paid are non-refundable.