Admissions open! APPLY NOW, PGCM Admission Helpline No. 9250127573 or email us on pgcm@aima.in/digital@aima.in
Overview:
This programme is designed to equip young managers and students for leadership roles in the face of global business challenges. The programme is structured to impart integrated knowledge of international marketing skills, trade policy implications, contemporary trade finance tools, export-import documentation and International Human Resource Management. This programme makes a bold attempt at delivering a balanced mix of export-import marketing and export procedural elements. It also gives and excellent opportunity to the students to understand business from an international perspective
For Whom
For students and professionals who want to enhance their knowledge and understanding of the different business management practices found all over the world.
Professionals looking for better job opportunities with well acclaimed companies, engaged in business at a global level.
Students and professionals who are keen to understand business from an international perspective and aspire to work across international boundaries and cultures.
Graduates and working professionals who wish to improve their knowledge and understanding of business and management in global context with a deeper understanding of marketing, foreign trade, economics, financial management, import export documentation and HR from a global perspective.
Programme Recognition
Eligibility
Bachelor's degree in any discipline from a recognised university or 3 years' diploma after 10+2 (equivalent to graduation in any discipline) from an institution, recognised by AICTE.
Graduate students pursuing other professional courses like MBA, MFS, CA, CS, ICWA can do this PGCM programme concurrently and seek lateral entry.
Programme Duration
The duration of the programme is one year with two semesters.
Maximum duration to complete the programme is 3 years.
Selection Process
The eligible aspirants can directly take admission by filling in the Admission Form ( Admission Form Link) and submitting the scanned copy of their graduation marksheet and a passport size photograph. The students may directly upload these documents while filling in the Admission Form.
For lateral entry, exemptions will be given, if the curriculum is equivalent to the PGCM Curriculum. Candidates may contact the PGCM programme Manager at +91 9250127573 or pgcm@aima.in
Session Commences
January and July each year
Exam Schedule:
Exam schedule is updated on AIMA website and Student Portal. Exams are held in June and December each year.
Lateral Entry Provision
Post graduate students undergoing courses like M.Com, MA can opt for lateral entry with exemption of maximum 2 subjects and concurrently continue both the courses.
The objective behind this initiative is to encourage more graduates to take up professional, Post-graduation programme like PGCM. Any student in the Final year/3rd Semester of M.Com /MA can undergo this distance learning programme concurrently.
The student also has an opportunity to seek credit transfer of maximum two papers, which he/she has passed in the first year or 1&2 semester of M.Com/MA.
AIMA has developed a detailed system for curriculum matching and harmonisation of grades and degrees.
Those 2 papers which match with any one stream of PGCM are exempted for the student and they can seek credit transfer for the same, rest of the papers need to be studied and successfully cleared.
Students seeking lateral entry are also given a fee exception for two subjects/papers.
Class Timings and Mode of Delivery
A: CLASS ROOM MODE
Weekend Programme: Classes are held from 9.00 AM to 5.00 PM at AIMA, Lajpat Nagar, New Delhi on (Saturday and Sunday) from August to November and February to May.
Note:- Students opting for the Class room mode need to select Nodal Centre Preference 1 as 100- AIMA CME Coordination Centre in the Admission form.
Students may also opt for Online Live classes. Details provided below
B: ONLINE LIVE CLASSES MODE
Students opting for online mode will get recorded lectures coupled with Online Live classes held at weekends (11.00 AM to 1.00 PM) from August to November and February to May.
Note:- Students opting for the online classroom mode need to select Nodal Centre Preference 1 as 0- All India Management Association in the Admission form.
Admission Process
Eligible candidates can apply for the programme by following the steps below:
Sample Certificate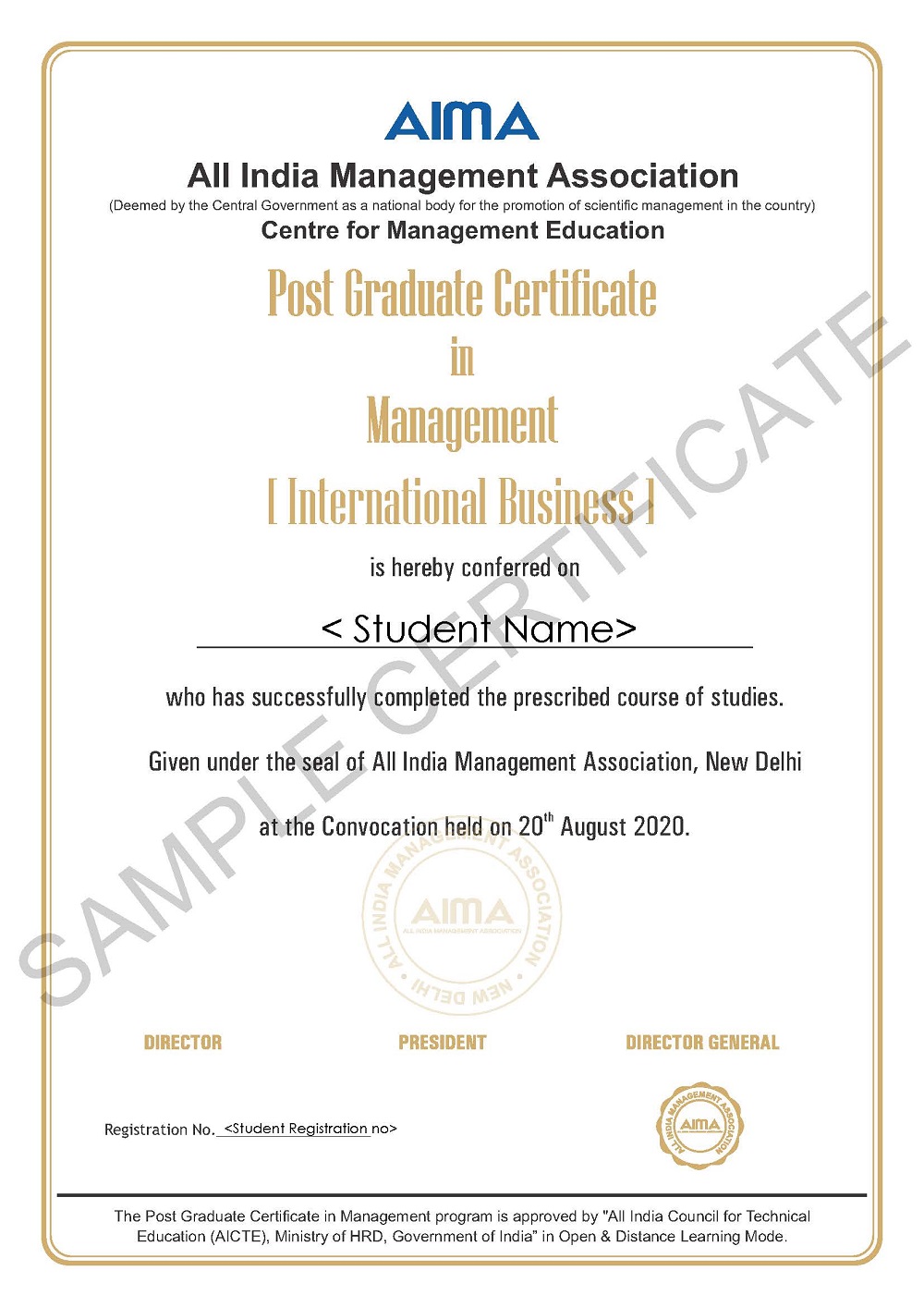 The duration of the programme is one year (two semesters). Maximum duration to complete the programme is 3 years.
Module
1
IB02 - Indian Foreign Trade
IB08 - Economics for International Managers
FM04 - International Financial Management
MM04 - International Marketing Management
IB03- Import – Export Documentation
HR06 - International Human Resource Management
GM100 - Project Work
2
Module
₹ 26,000 /-
Programme Fee:
| Fee Particulars | Fee in INR |
| --- | --- |
| Total Programme Fee (Module 1 and Module 2) | ₹ 26,000 |
*The fee above is inclusive of all academic charges, study material, online course content, recorded lectures, amongst other facilities provided by AIMA. Examination fee will be separate and will be charged at actuals. All fees paid are non-refundable.