Future awaits! Admissions open on 15th October 2023 for next session. Secure your seat for a brighter tomorrow.
PGCM Admission Helpline No. +91 9250127573/+91 9810128597; or email us at pgcm@aima.in, pgcmpa@aima.in . APPLY NOW!
Overview:
The programme covers the concepts and techniques of modern finance and enables the student to analyse and understand the behaviour of the modern financial market; to explore the range of factors influencing financial decisions; to understand modern corporate financial management; to examine the role of financial risk management within business organisations and thus equip him/her with skills and knowledge for a career in the financial sector.
For Whom
Professionals in middle management level seeking to renew finance fundamentals.
Professionals aiming to shift to financial functions.
Graduates looking forward to enhance their knowledge in financial areas.
Graduates looking for financial management specific skills to get better job opportunities.
Candidates pursuing CPA exams
Eligibility
Bachelor's degree in any discipline from a recognised university or 3 years' diploma after 10+2 (equivalent to graduation in any discipline) from an institution, recognised by AICTE.
Graduate students pursuing other professional courses like MBA, MFS, CA, CS, ICWA, CPA can do this PGCM programme concurrently.
Programme Duration
The duration of the programme is one year with two semesters.
Maximum duration to complete the programme is 3 years.
Session Commences
January and July each year
Exam Schedule:
Exam schedule is updated on AIMA website and Student Portal. Exams are held in June and December each year.
Classes
Students will get recorded lectures coupled with Online Live classes held at weekends
Sample Certificate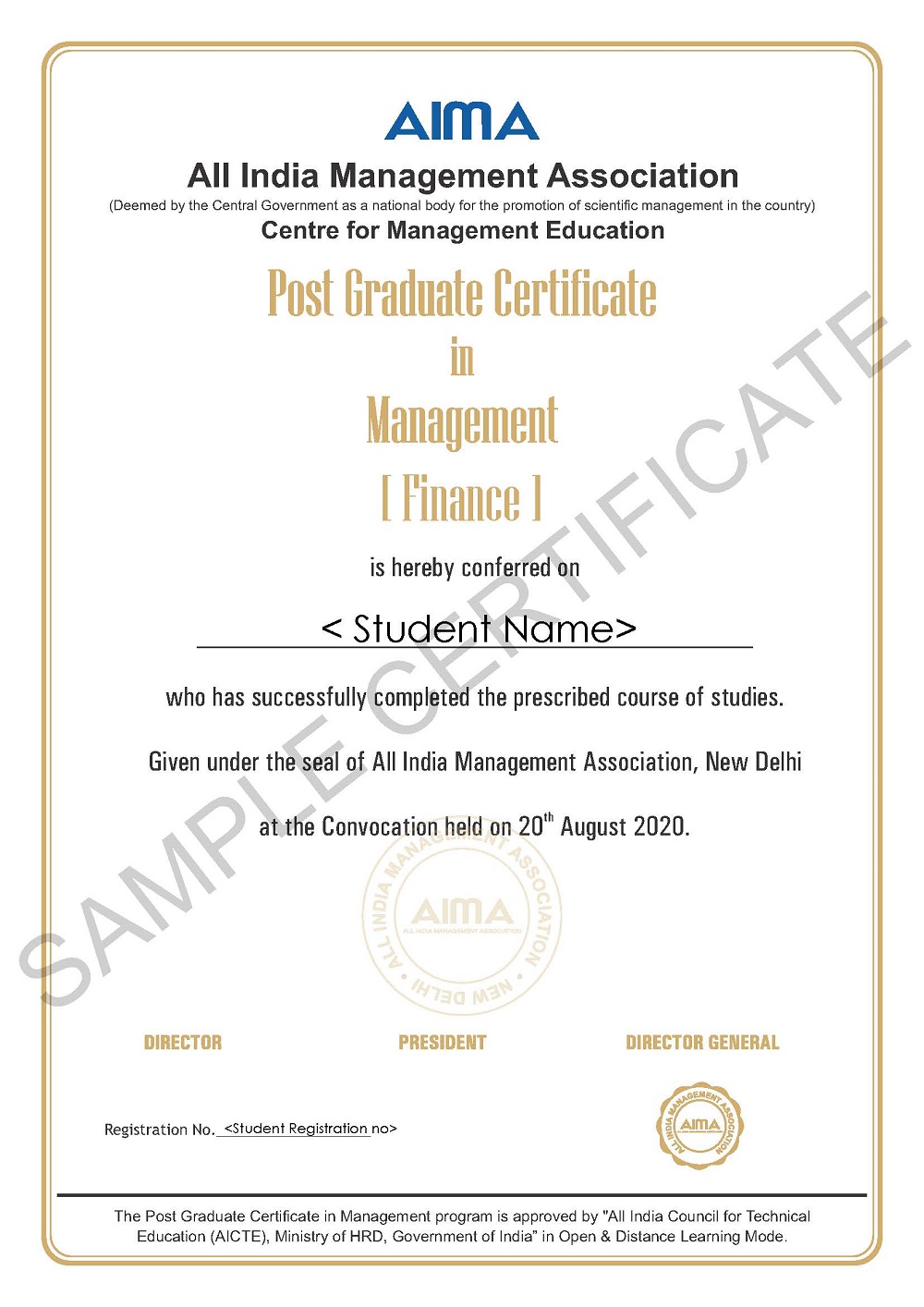 Contact us
Ms. Sheetal Thagunna
Programme Coordinator
Mobile: +91 9810128597, Email : pgcmpa@aima.in
All India Management Association (AIMA)
Management House, 14, Institutional Area,
Lodhi Road, New Delhi-110 003
Website : www.aima.in
The duration of the programme is one year (two semesters). Maximum duration to complete the programme is 3 years.
Module
1
FM03 - Security Analysis & Portfolio Management
FM04 - International Financial Management
FM06 - Management of Financial Services
FM09 - Project Appraisal & Finance
FM07 - Option Future & Other Derivatives
FM10 - Strategic Cost Management
GM100 - Project Work
2
Module
The credit for PGCM Finance
| Programme Structure | Number of paper/courses offered under the Category | Credits |
| --- | --- | --- |
| Semester 1 Courses/papers | 4 | 4x4=16 |
| Semester 2Course/Papers | 2 | 2x4=8 |
| Capstone Project Work | Equivalent to 2 papers | 2x4=8 |
| TOTAL | 8 Papers | 32 Credits |
₹ 35,000 /-
Programme Fee:
| Fee Particulars | Fee in INR |
| --- | --- |
| Total Programme Fee (Module 1 and Module 2) | ₹ 35,000 |
| Exam fee | ₹700 per subject applicable |
*The fee above is inclusive of all academic charges, study material, online course content, recorded lectures, amongst other facilities provided by AIMA.
** Call +91 9810128597 to check out enrolment partner fee

**Refund of fee is governed as per refund policy of AIMA