Admissions open for July 2023 batch APPLY NOW, PGDM Admission Helpline No. 9654601397 or email us on pgdm@aima.in
PGDM- Post Graduate Diploma in Management is a two year programme approved by AICTE divided into 4 modules, with both traditional and new age specializations in HR, Marketing, Finance, Operations, IT, International business, Financial Research and valuation modelling, Digital Marketing, Business Analytics, Supply chain management and public procurement.
One of the most prestigious programme offered in blended mode. AIMA-PGDM is designed with the objective of nurturing the competencies of working professional and fresh graduates aspiring to work. The curriculum is aligned to cover all the management specializations in the most-flexi learning and interactive way as per the industry needs. This programme allows students to balance the work life challenges and professional management commitments.
The PGDM programme is approved by All India Council for Technical Education (AICTE), Ministry of Education, and Government of India (In ODL Mode).
PGDM has an edge over MBA Programme
PGDM courses are industry oriented unlike MBA, which are more theoretical in nature. PGDM focus more on grooming programs, mentorship and industry exposure. A PGDM program is offered by AICTE recognized b-schools and standalone/autonomous b-schools, under the Ministry of Education, which do not come under the UGC. However, it is pertinent to know that the corporate world does not differentiate between the two. Graduates from both programs are equally eligible for the same kind of management jobs.
Being an AIMA student you not only get management qualification but a huge network which helps you to grow in your corporate ladder and also access to new management concepts.
For Whom
PGDM is open for both working professionals and fresh graduates who're aspiring to work.
Why AIMA- Centre for Management Education?
Founded in the year 1957, with active support of Government and Industry, AIMA is the apex body for management in the country.
AIMA has pioneered the concept of executive education and developed over a period of 65 years.
Strong Industry base which provides unique opportunity to its students to interact and learn from the top notch leaders.
Opportunity to leverage world class Management development programs, Conferences, Business summits, Management conclaves and Leader speak sessions of AIMA.
Academically rigorous curriculum, designed to meet the need of the industry and adopted for a dynamic learning experience, supported by a hybrid format of live virtual and in-person classes.
Programme USP's
Approved by AICTE, Ministry of Education, and Govt. of India.
Over 4 decades of expertise in conducting Management education programme.
Highly experienced Faculty from Academia & Industry.
Case Study Development & Business Simulation games to build and strengthen decision making and analytical skills
Complimentary AIMA student membership- Every student is entitled to receive an AIMA member certificate.
Designed to accommodate busy learner schedule.
Complimentary copy of AIMA's monthly journal "Indian Management" one of the leading management periodicals in India.
12 Specializations to choose from including 6 new age specializations like digital marketing, business analytics, retail, banking & financial management, financial research and valuation modelling.
Special invites to attend National level seminars/summits.
Student Support for all academic & operational queries.
Live Industry Interactive sessions.
Placement Assistance from AIMA-Centre for Management Education.
Key Takeaways
Provides a solid grounding in business concepts and in development of practical knowledge.
Student develop managerial skills and awareness as they realize their potential for assuming managerial roles.
Globally accepted management qualification and credit recognition.
Well recognized programme by Industry and academia.
The programme quips you to take strategic actions in real life business environment based upon both traditional and innovative business practices.
Eligibility
Graduation (10+2+3) in any discipline from a recognized University. It is followed by Personal/Telephonic Interview round with AIMA Panel member.
Program Delivery
Student can opt either of the below mentioned option to pursue PGDM Program from AIMA:
Option A: 15 hours of teaching (per subject) via Face to Face Class room teaching on weekends and Industry Interaction, Foundation Program etc
Option B: 15 hours of e-learning content (per subject) on weekends which includes sessions by subject experts, Industry Interaction, Foundation Program etc.
Evaluation
On the basis of two assignments per subject and term-end examination. Term end Examination is Paper pen based and is conducted Pan India in month of June and December.
Certification
Upon successful completion on each module/semester, the modular certification will be awarded.
| Module | Modular Certificate |
| --- | --- |
| 1 | Certificate in Management |
| 2 | Advanced Certificate in Management |
| 3 | Professional Certificate in Management |
| 4 | Post Graduate Diploma in Management |
Sample Certificate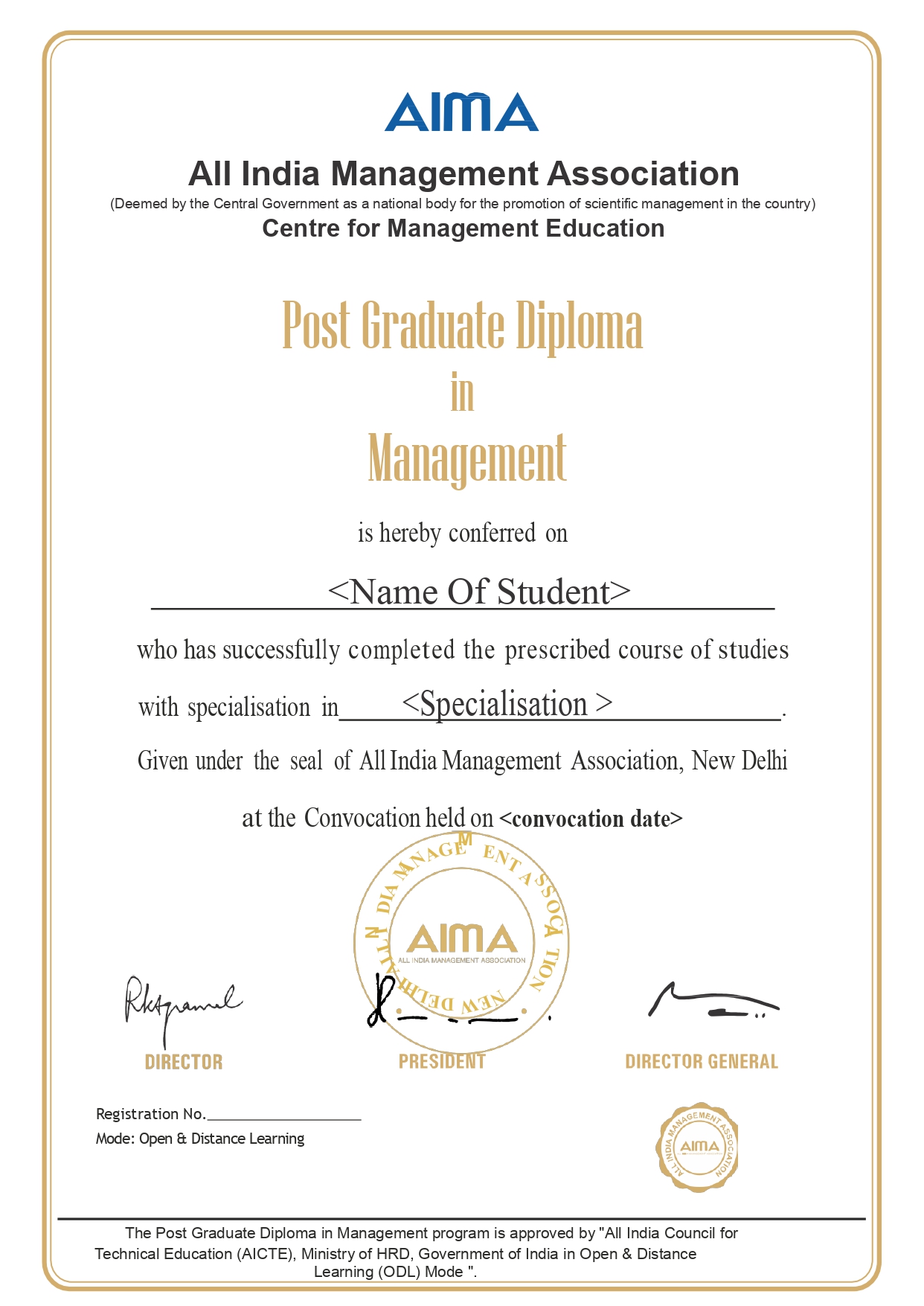 Program is divided into 4 modules/six months each. Program has total 21 papers divided into 4 modules + Project Work.
Module
1
Management Functions & OB
Business Communication
Managerial Economics
Introduction to IT Systems
Financial & Management Accounting
Business Statistics
Certificate awarded post module completion
Certificate in Management
Operations Management
Human Resource Management
Marketing Management
Economics and Social Environment
Financial Management
Research Methodology
2
Module
Certificate awarded post module completion
Advanced Certificate in Management
Module
3
Specialization

Specialization Paper 1
Specialization Paper 2
Specialization Paper 3
Specialization Paper 4
Specialization Paper 5
Certificate awarded post module completion
Professional Certificate in (pgdm)
Business Law & Corporate Governance
International Business
Entrepreneurial Management
Enterprise Systems
Project Work
4
Module
Certificate awarded post module completion
Post Graduate Diploma in Management (PGDM)
Candidates will be short-listed on the basis of Interview, which will be conducted by AIMA. For interview dates, you may call programme manager.
Documents required at the time of Interview/admission
Self –Attest Graduation certificates (consolidated graduation mark sheet of third year in which the grand total of previous years is mentioned/provisional certificate)
One passport size photograph.
Need to obtain prospectus of Rs. 1,000/-
Payment Schedule
For first module pay at the time of admission and for the subsequent modules before the start of the classes.
| Fee Particulars | Fee |
| --- | --- |
| First Module | ₹ 31,500/- + ₹ 1000/- for prospectus cum admission fee |
| Second Module | ₹ 31,500/- |
| Third Module | ₹ 31,500/- |
| Fourth Module | ₹ 31,500/- |
*The fee above is inclusive of all academic charges, study material, online course content, digital library, amongst other facilities provided by the institute. Examination fee will be separate and will be charged at actuals. All fees paid are non-refundable.
For more details/clarifications, Contact Us
Geetika G
Programme Manager
AIMA-Center for Management Education
15 Link Road, Lajpat Nagar – Part III,
Nearby Lajpat Nagar metro station pillar no. 26, New Delhi – 110024
Mobile/Whatsapp : +91 9654601397
Email : pgdm@aima.in