Introduction
Welcome to the transformative world of Digital Business Management: Re-envisioning & Re-wiring in the Age of AI. This dynamic online course is tailored for senior business managers and digital officers, delving into cutting-edge strategies and insights for thriving in the digital landscape.
With rapid advancements in artificial intelligence (AI) and technology, Indian businesses experience a seismic shift. Over 80% of organisations believe AI will significantly impact their industry in 5 years. However, few are fully prepared to harness its potential, offering senior business managers and digital officers a unique opportunity to gain a competitive edge through skills and knowledge in this transformative era.
The 30-hour course equips you with the expertise to lead your organisation through this digital revolution. Exploring real-world case studies and industry best practices, you'll gain practical insights into emerging digital business scenarios.
Whether a senior business manager leveraging AI for growth or a digital officer guiding your organisation's strategy, this course provides essential tools and frameworks for success. Our goal is to empower you to navigate the digital landscape confidently, leading your organisation to innovation and sustainable success.
Embracing change and adapting to new paradigms is crucial. A glance at the course outline reveals key topics and discussion areas of the holistic curriculum.
Learning Outcomes
The key objective of this course is to empower participants to be effective at workplace in the age of AI. By the end of the programme, they shall learn:
Understand the foundational principles driving digital transformation in today's business world.
Develop strategies to navigate challenges and make the most of AI technologies.
Acquire the skills to rethink your organisation's digital business model for success.
Cultivate an agile mindset to adapt to changing markets and stay ahead of competitors.
Learn to use emerging technologies like machine learning and automation to drive innovation and efficiency.
Master data-driven decision-making for better performance.
Foster a culture of digital innovation within your organisation and lead successful digital transformations.
Implement effective cybersecurity measures to protect your organisation's digital assets and data privacy.
Learn best practices from companies that have succeeded in developing digital business strategy.
Remake your strategy to thrive as a successful executive in the digital era.
Many more areas of digital business strategy with live case examples and blend of workshops and interactive discussions.
Take this transformative journey and position yourself at the forefront of digital innovation. Join us for an immersive learning experience that will empower you to reshape your business in the age of AI. Together, let's shape the future of digital business management in India and beyond.
Schedule
Total Online teaching hours: 36
Total sessions: 18
Duration of each session: 120 minutes
Sessions are being planned on Sundays. Timing: 9 AM to 1.30 PM with half hour break
Topics to be covered in the Course
18 SESSIONS ( 2 Hours Per Sessions)
Methodology
The course methodology will include lecture, Q/A, discussion, audio -visual aids, case studies, expert learning.
Who should attend
CEOs
CXOs
Senior Business Managers
Department Heads
Business Planner IT Heads
Business Analysts
Start-ups and Consultants
Digital Business Management Practitioners and users
Course Material
The course pack comprising power points slides of faculty, many of global research reference material, Case studies, templates aids, reading material etc. will be provided to each participant.
Assessment, Grading & Certication
Each Participant is expected to complete the following criteria to recieve the certificate of success for the course:
60% attendence
Completion of a project as per expectations defined by the faculty, who will assign a project. Project can be done in a group.
Active participation in class during discussion and workshop
Participation certificate will be issued on non-adherence of the above criteria
Lead Faculty
Prof. M.D. Agrawal is former General Manager IT and Chief Information Officer of downstream BPCL, India's secondlargest oil major. Mr. Agrawal was the advisor to TCS from 2014 to 2019 to design innovative and cost-effective solutions for clients and design strategy for downstream domain excellence. He is associated with IITB, a premier institute in India since last 8 years as a visiting professor on subjects of software project management, knowledge management, digital transformation and E business strategy and associated with IIT Gandhi nagar as Adjunct professor for subject Digital innovation and digital transformation in enterprise. Earlier he served India's premier institute NITIE as adjunct professor 2019-20 and adjunct professor at SJMSOM, IITB during 2018 to 2020.
Toward academic pursuits, with rich industry backgrounds, during last 8 years, Prof. Agrawal offered electives to MBAfinal years students of SJMSOM, IITB on subjects like digital transformation, E commerce and E Business strategy & management, knowledge management, and software project management and agile methodologies.
His current key interest are Consulting, coaching and teaching of during contemporary subjects in domain of digital transformation and digital capability building both for students and industry professionals. In past, he has designed and offered multiple short duration MDPs which were run at SJMSOM, IITB and IIM C. He also keep doing research on industry focus subjects. His one research paper on topic "Operation Intelligence and digitalization practices for downstream oil industry "was published prominent industry journal Hydrocarbon Processing in year 2017. He has addressed multiple International and National conferences as a thought leader and accomplished industry veteran.
Prof. Agrawal is having strong connect with industry and professional bodies. As President, he has also been leading as premier professional bodies like Bombay Management Association, Computer Society of India, South East Asian Region Computer federation- SEARCC.
In his illustrious career, Prof. Agrawal has accomplished excellence in completing several technology projects leading to business transformation and organization development. He is Gold medalist in Mathematics and was conferred CSI fellowship for his outstanding contribution in field of IT.
His technical work was instrumental getting BPCL several International and National awards worth mentioning: Delhi Best Practice International award, USA, CIO 100 Asia Pacic Award, NASSCOM Best IT Implementation Award 2011 and CSI IT Excellence Award 2013.
Associate faculty
Mr. Sanjay Agrawal is Chief Technology Officer (CTO), leading all Digital initiatives at Hitachi Vantara that include solutions around, Big Data, Cloud, Mobility, IoT etc.
Also currently leading a team of Solution Architects in India and SAARC. This team is responsible for consulting and design of IT solutions Data Center Modernizations, Intelligent Data Governance and Data Driven Insights.
Recently took Digital Transformation initiatives such as DATAOPS, Data Lake optimization, Insights into Dark Data, Dynamic blending of structured and unstructured data, Hybrid Cloud adoption including Application Modernization for shifting workloads to Public cloud, Hybrid IT with DC modernization with optimized Infrastructure including Object storage etc.
Playing lead role in Digital Transformation workshops at Enterprise customers. These workshops include assessment of current state and recommendations to arrive at desired Digital maturity state with certain initiatives around Data Driven decision making, Cloud acceleration, IT Modernization etc. to accelerate their Digital Transformation journey and shift focus from Operations to Innovation.
One of the responsibilities at Hitachi Vantara has been to transform people from traditional hardware selling to Digital solution selling demonstrating signicant value propositions around Business and IT.
Regularly conducting Digital Transformation workshops at IIM Kolkata and SOM, IIT Mumbai for CXOs. Focus was primarily to help CXOs understand Digital Transformation and its impact in IT and Business.
Also have been a member of couple of Govt. of India IT initiatives and task force as advisor.
Prior to joining Hitachi Vanatara, Sanjay was Strategist and Country Presales Manager at Hewlett Packard Enterprise for 19 years.
Faculty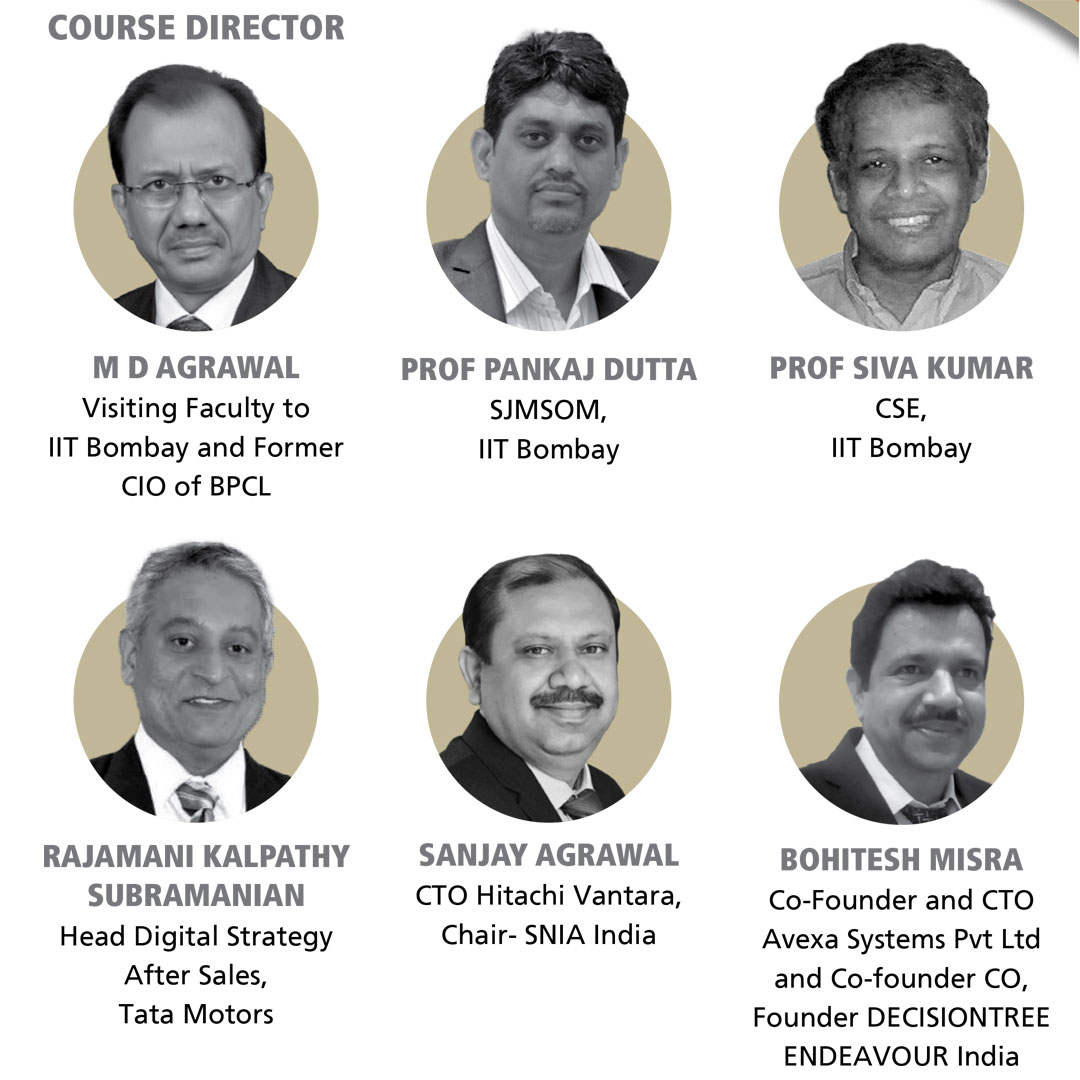 For further clarification, please contact the undersigned
Rahul Bhatia
All India Management Association
Center For Management Education
15, Link Road, Lajpat Nagar - 3,
New Delhi, India - 110024
Tel : 011-47673000/011, 49868399, Ext. 722
Email : rbhatia@aima.in
Website : www.aima.in
Title of module/ Outline of topics
1. Introduction of Digital Business
Impact of digital trends on business
Elements of business value of Digital
Digital to the Core
Customer experience based economy
Emergence of API economy for Digital Business
Foundational and universal elements for successful digital business: Vision, alignment, and commitment
2. Organisation capabilities for building digital business
Elements of organisational capabilities and ability to produce intended business outcomes in the digital space
Multi-disciplinary areas of Digital business operations
Introduction of digital capability model Twelve nos. elements
Detailed explanations of twelve capabilities areas & their AI-based enablement with use case
Automating Customer touch point journey using digital
Framework of maturity assessment of digital business Case study discussion of DBS Bank, Tata Motors
3. Strategic Principles of Smart Business
New Forces of Value Creation Network coordination and data intelligence
AUTOMATING DECISIONS: Five Strategic steps to Leverage Machine Learning for business automation
THE CUSTOMER-TO-BUSINESS MODEL How to Build a Feedback Loop
Five steps for business domain re-imagination – McKinsey study
How to Make Strategic Processes Smart
Case Study of Alibaba
4. Connected enterprise business and enterprise automation
Digital technology plays for automated and intelligent processes in the enterprise
Building a connected enterprise ecosystem
Use case of enterprise automation
Automating onboarding of new recruit

Automating customer touchpoint processes using RPA and AI
Regulatory compliance automation
Order management and fulfilment
Automation of logistic process
5. Data Driven decision making and Analytics with hands-on exercise for predictive analytics
Part A
a) What is Data Driven Decision Making?
Data provides insights that enable managers to identify trends and patterns and accurately forecast the future
Improve customer experience and gain competitive advantages
How to explore data to make business decisions?
Framework for developing Data analytics
Case Implementation
Showcasing this framework with Important steps in the DDDM process
Data pre-processing and data visualisation
Case study discussion
Part B
Hands-on to develop your own Predictive model using Excel
6. Re-tooling Business
a) Re-envisioning Business Model and crafting same
Methodology and frameworks of 15 types of new business models
Crafting a Digital business model
Adapting business models to leverage AI and emerging technologies

b) Building a Digital Business Platform
7. Strategy for IT preparedness for Digital business
Strategy Migrating/ Upgrading from Legacy for Digital Ready IT state
Key differences between Legacy vs Digital transformation state: Inside vs Outside
Key components of Digital Infrastructure Architecture
Mapping External Digital Interactions to the Organisation
Suggested framework of an Integrated and Scalable Digital Platform
8. Digital Business Model for Marketing 5.0
Predicative marketing & use cases
Augmented marketing & use cases
Agile marketing & use cases
Contextual marketing & use cases
9. Digital business model of BFSI-Fintech as reference architecture for digital business
Leveraging India Stack for building your business
Design and act your finance on principles of fin-tech
10. Building Digital capabilities for manufacturing business
Part A
Critical issues in today's manufacturing ecosystems
Drivers for building a smart factory model
Disruptive digital technologies and use cases
IoT as game change as new capabilities of smart, connected products at the core of Data
The architecture of digital manufacturing and smart factory
Technology foundations
Key learning from World economic forum Light House Company
Tata Steel - turning around the business in a digital way
Part B
Manufacturing automation and Robots & AI
11. AI strategy for
Marketing and Sales, Supply Chain and Logistics
Healthcare
E-Commerce, customer experience
Generative AI
12. Strategy for cyber security and data protection
Strategy for Cyber security and data protection & privacy
Understand growing threats & strategy for Cyber security and Data security
Significance of Data Protection and privacy for digital business and regulatory framework
13. Preparing organisation for digital business
3 pitfalls which caused failure of digital business
Building Talent Bench, Talent Gap analysis
Benefits of Agile way functioning
Change management and orchestration
14. Persona for success for taking digital to core Leadership workshop
Remaking and preparing yourself for digital business
Key reasons of digital business strategy failures
Understanding desired personas for a successful digital leader
Six traits of successful leader in digital era

Participants will be assigned short Project Work in groups
Enrolment & Registration Process
You can enrol in this course by registering online.
For online registration CLICK HERE
Course start date – 1 Oct 2023
Timings – Sunday, 9:00 am to 13:30 pm
Course Fees
The programme fees for this course is Rs 35,000/- plus GST
Two installment option is available.